What's the right age to found a startup? Do would-be founders over 30 have a chance?
Reading news articles today, it's easy to think that if you haven't had a brilliant idea by 22, started a company by the age of 25, and received venture funding by 27, you're out of luck. Well-meaning advice to jump into the startup game early abounds: "The guys with kids and mortgages are at a real disadvantage. This is one reason I'd bet on the 25 year old over the 32 year old," said Paul Graham, Y-Combinator cofounder, nearly 10 years ago.
But what does the research say?
Walter Frick at HBR analyzed founder ages at venture-backed private companies in the billion-dollar valuation club using data derived from LinkedIn, and estimated that the median age of unicorn founders was 30. In addition, 29% of founders on the list did not have any age-related data listed on LinkedIn, which could be because they are older than the 'typical' founder.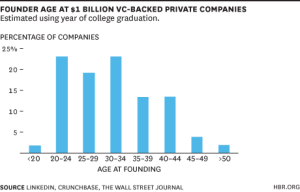 A similar analysis by Cowboy Ventures that included public billion-dollar companies discovered that the average age of founders was 34.
My hunch is that for certain groups of people, founding a company at age 25 is not practical.
You may have student loans from college or advanced degrees; you may be saving money to buy a home with your partner; you may be supporting your partner through school; you may be caring for your aged parents or younger siblings.
Women who want to have children may be particularly disadvantaged by the impression that a founder must be young to be successful. Saving money for the expenses of having children, taking time off work to actually have them, and ensuring you have a challenging role to go back to when returning from maternity leave – these are difficult things to accomplish even in the relatively stable environment of an established corporate job.
But that doesn't mean founding or leading a startup cannot be in your future. Going back to the HBR analysis, the average age of the current CEO was 42 for private unicorns, suggesting that VCs value experience when installing CEOs.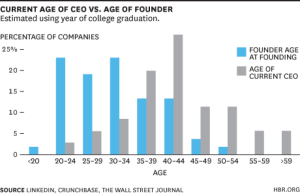 The Cowboy Ventures analysis also revealed a startlingly high number in its dataset — 80% of unicorns have at least one co-founder who has previously founded a company. This prior experience included everything from tutoring to bagel delivery companies.
So here's my advice: Get practice starting things.  Whether it's raising your hand for an entrepreneurial project at work or starting a new student organization, there are easy ways to bolster your credentials and prove you can lead an idea to execution through bounded experiments.
Experience is a smarter route to becoming a successful startup founder than worrying about the number of candles on your next birthday cake.