Why the world's most successful tech companies are all founder-led.
Uber, Facebook, Google, Twitter, and Tesla are very different companies. They have different cultures, different products, and different cost structures, face different risks, and have grown along different trajectories. So what do they have in common, other than that you wish you had founded each of them?
Thing #1: Their products have transformed our lives and our society
These are product-driven companies. They have introduced solutions that have fundamentally altered the way we travel, communicate, do business, and imagine what the future will look like. Their products do not live in the background of our lives; we think about them and interact with them every day.
Thing #2: Their products consistently win in competitive markets
All of these companies have long outlived the flash-in-the-pan designation. They are constantly one step ahead of the evolutionary curve. Google was a search company that now powers 80% of our smartphones; Tesla has moved from exotic roadsters to everyday vehicles and captivates with each new product announcement; and Uber has thwarted an innumerable host of upstarts with their eyes on the ride-sharing throne.
Thing #3: They are all founder-led
Despite experiencing extended periods of massive growth, all five of these companies are still led by founding CEOs.
But a venture capitalist told me founders rarely scale…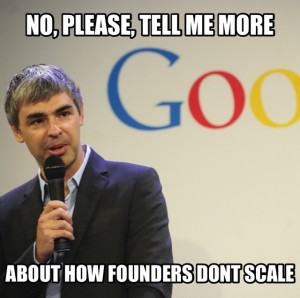 What does it mean that these five icons of the tech world continue to be run by their founders? Are VCs wrong to dispatch so many founder CEOs for supposed failure to scale? Not necessarily – after all, these are special businesses built around inspired products. But it's worth considering that founders are the source of a startup's initial product inspiration. If that initial product is one with high potential, then at least one of the founders must have had both intuition and insight about the market that others did not. As market conditions and customer preferences evolve, who is more likely to generate the next inspiration that will keep the company ahead of the market: the founding CEO who has already proven her intuition about the market, or the outside CEO who has proven his ability to 'scale'?
When VCs remove a founding CEO, they are often removing the individual with the clearest vision for what the company's product is and can be. They are implicitly trading off product in favor of operations. That tradeoff may be a good one when a product is highly stable and execution is the biggest barrier a company faces; however, the truly great companies that consistently win in big markets rarely do so simply by executing on a stable product.
Technology startups, like species, are subject to the forces of evolution. Shifting landscapes of customers and competitors force companies to evolve or perish. Tempting as it may be to cast aside a founder for a veteran CEO, VCs would do well to remember that the guy who had the foresight to build the arc the first time might be their best bet at anticipating the next flood, too. Just ask Travis, Larry, Mark, Jack, or Elon. (Or Jeff Bezos. Or Bill Gates. Or Steve Jobs.)