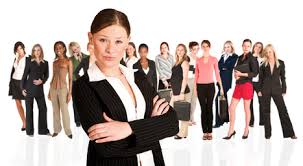 Women entrepreneurs are afraid of failing before they've even started, and it's having a negative impact on everyone.
If you're thinking about starting a business, chances are you've heard many different versions of the following: Depending on how you interpret failure, your business has between a 50 to 90% likelihood of going under.
If you're a female entrepreneur, the path of entrepreneurship is even more daunting. Women are still catching up in the entrepreneurial world. A 2014 study by the Kauffman Foundation highlights that the women-owned businesses account for about one-third of businesses in the United States. When looking at high-growth firms, female founders usually comprise less than 10 percent of any given sample. And such trends are even more pronounced on a global level.
Research contributes this gender gap to a number of factors, including a lack of female mentors and networks, and the greater difficulty women face in accessing capital than men. Studies have found that there is also a difference in the way that men and women view failure—a difference that could be one of the earliest drivers of the gender gap in entrepreneurship.
In its 2014 annual survey, the Global Entrepreneurship Monitor (GEM) found that while most early-stage entrepreneurial activity is taken on by men, there is little notable difference between the genders in individual attributes that define potential entrepreneurs. Indeed, GEM studies have consistently found that women and men have similar levels of perceived opportunities (40% for women versus 45% for men) and perceived capabilities (46% for women versus 59% for men) in entrepreneurship. The only real difference between men and women respondents arose when examining one of the psychological factors of starting a business: fear of failure.
The GEM 2014 Women's Report, released last week in honor of Women's Entrepreneurship Day, women expressed a higher presence of fear of failure than their male peers. The study found that women are more risk averse than men when it comes to entrepreneurial behavior. In the overall sample, 41% of women who perceived opportunities would not start a business due to fear of failure, compared to 34% of men.
From HBS Digital Initiative
This is especially concerning given that fear of failure can be a strong inhibitor for any individual looking to turn his or her entrepreneurial dreams into realities. Such fear is especially salient for women, who already face a slew of cultural, societal, and economic barriers in starting businesses, even in innovation-driven economies—contributing to the persisting gender gap. Across societies, women are less active in early stage businesses than men, with the gender gap being wider in pre-dominantly-developed geographies.
So why is it that even in more developed economies—where the social and cultural constraints around female-founding are less pronounced than in developing ones—that women still have a greater fear of failure? The answer could lie with the individual, below the social and cultural constraints on female entrepreneurs often discussed.
A recent analysis of gender difference in founding rates contributes the difference to the "male hubris-female humility effect." Authors Venkat Kuppuswamy (UNC) and Ethan Mollick (Wharton) provide compelling research to show that decreased hubris lowers the likelihood that women faced with low-quality founding opportunities will engage as compared to their male counterparts. Simultaneously, increased humility among women leads them to take on fewer founding attempts than men, even when opportunity quality is high.
The "male hubris-female humility effect" continues even when you look at entrepreneurs considering their second ventures. As NPR Social Science Correspondent Shankar Vedantam explains, "If you fail the first time, it's actually a strong predictor that you're going to fail the second time. So women who opt out are in some ways making a rational decision…but because men are so overconfident, they try again and again and again. And, in fact, they try so often that at some point something sticks…"
Speaking to Kuppuswamy and Mollick's research, Vedantam adds: "The researchers find that when the first projects of these entrepreneurs succeed, men are much more likely to take that as a vote of confidence and say, look, the market thinks I'm a genius. Let me launch a second project. Women are much more likely to say, I just got lucky, or I had lots of friends. In other words, they're much more likely to be humble."
Perhaps most striking of all is the negative impact that the "male hubris-female humility effect" has on women—and society—as a whole. Kuppuswamy and Mollick estimated more than a 20 percent increase in female-led ventures in their study "if women were as immodest and overconfident as men." Even conservatively extrapolating from this study makes it clear that by not encouraging women to take on more risk, we are leaving large amounts of value on the table.
Global Impact of Closing the Gender Gap
In the end, it is in everyone's best interests close the gender gap in entrepreneurship by encouraging women to tackle their fear of failure and pursue their ventures. The potential economic impact of reaching gender parity in entrepreneurship and business overall is clear, and its very big—potentially leading to trillions of dollars in global growth. We only stand to benefit as a society in which women are more confident in their entrepreneurial potential. Because more women entrepreneurs means more entrepreneurs overall, which will mean more businesses, added jobs, and greater economic growth. Where's the fear in that?